---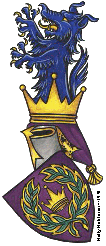 23 September, 1998

Unto the generous populace of the Barony of An Dubhaigeainn and the members of the Gilded Pearl do TRM Timothy and Gabrielle, King and Queen of the East, send greetings and thanks.
Good gentles, we would like to thank you for your contribution of $574.72 to the Kingdom Regalia Fund. We have made it a goal during our reign to improve the Kingdom Regalia, and are very glad to know that there will be funds to continue this endeavor. As we announced in Court, your contribution has been ear-marked for a Sword of State and new Kingdom Crowns.
We would especially like to thank Baronin Anna Herold von Ossenheim for coming up with the idea for the fund raiser and putting it into play, and our Tax Collector, Sir Diablu, for doing his job so very well. We know the new Sword of State and Kingdom Crowns will be something the entire Kingdom can be proud of, and your Barony, The Gilded Pearl, and all who participated in the event will have been instrumental in their creation. Thank you again for your generous contributions.
In Service to the East and the Society,
Timothy and Gabrielle
---
**Heraldic artwork created and copyrighted by Lady Margaret Holmwood of Carolingia.**